Bio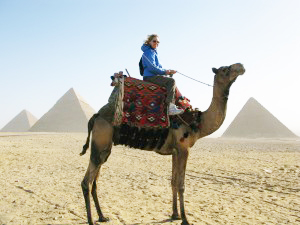 NYC-based adventure, luxury, lifestyle and profile writer Margie Goldsmith has hiked, biked, paddled, climbed, run marathons, done triathlons, scuba-ed, ziplined, Zorbed, Coasteered, Deepelled, test-driven $250,000 vehicles, and conducted interviews on all seven continents in 135 countries, including Uganda, The Marquesas, South Korea, Laos, Cambodia, Oman, Cuba, Tibet, Nepal, Borneo, Mauritius, Papua New Guinea, Easter Island, Croatia, Namibia, the Arctic and Antarctica. Her articles have appeared in Travel + Leisure, Robb Report, Business Jet Traveler, National Geographic Traveler, Islands, American Way, Delta Sky, Hemispheres, Coastal Living,Virtuoso, Private Clubs, Affluent Traveler, Wall Street Journal, Washington Post, The Globe and Mail and others. She is a published novelist (Screw-Up, Berkley Press) and her essays appear in Travelers Tales, The Walker Within, In Search of Adventure, National Geographic's Spiritual Journeys, GoNomad's London Reader and Chance Encounters. She is a contributor to Forbes.com.
Goldsmith has won 78 writing awards including the most coveted travel writing award, The Lowell Thomas SATW (Society of American Travel Writers) Gold Award, and three Eddie and Ozzie Folio Awards, the largest awards competition in magazine publishing. She has won multiple awards from the American Society of Journalists & Authors (ASJA), North American Travel Journalism Association Award (NATJA), Solas Award, three times the Travel Classics Award, and twice the Outdoor Writers Association of America (OWAA) award.
When not on the road, Goldsmith explores Central Park, does Mixed Martial Arts, and practices blues harmonica. When visiting foreign countries whose language she doesn't speak, she gives away Hohner harmonicas to school children. "Music is a universal language, an ideal way to communicate with everyone. It's my passport to the world," she says.
She began her career in Paris as head of a post-production film company, and while there, wrote Screw-Up, a novel, published by Berkely Press. She next co-wrote a French motion picture, A Tout Casser (starring Michel Serrault). Upon returning to New York, she continued to write while learning how to edit and direct films. She next launched MG Productions, a NYC award-winning film/video production company specializing in promotional videos and PSAs which she ran until she decided she'd rather pursue writing full time.
Margie Goldsmith is a resident fellow of the Explorer's Club has been a trustee of Outward Bound USA and board advisor to the Elisa Monte Dance Company, NYC. She is a board emeritus of Advertising Women of New York, and a member of SATW, ASJA, and the Traveler's Century Club.